Starfish Synergies is the exclusive provider of PLAY-DOH POWER SOLUTIONS. We provide experiential, creativity-based training for corporate teams to help develop solutions to both old and new problems.
The Great Resignation is taking place. Employees are leaving the workforce in record numbers and together we are redefining new ways to work together on remote, in-person or hybrid teams.
CEOs know that success depends on staff and teams who are adaptable and cohesive…
Our courses provide hands-on opportunities to enhance team cohesion, adaptability, and innovative thinking.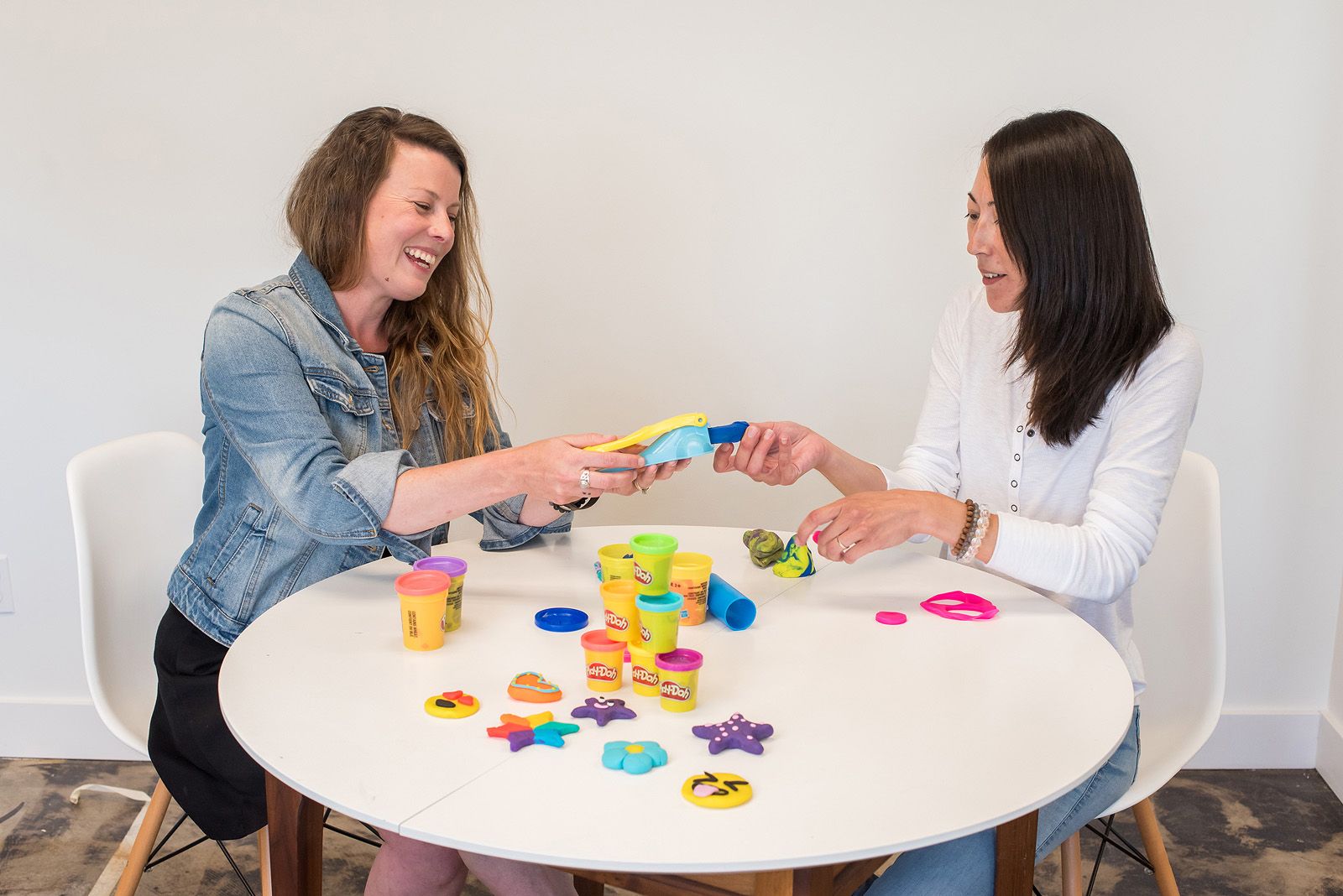 HOW?
We do things a little differently because there is nothing we dislike more than unproductive, boring meetings.
We engage the senses with sounds, visuals, and tactile materials so participants feel connected as they learn. This experiential learning model makes training more memorable because it engages more of the brain and embeds concepts in multiple ways.
It's research based, and it will make sense.
WHY?
We like to keep things fun and we know that fun doesn't mean unproductive.
Play is vital to social evolution – animals who learn to play are better able to socialize. The same goes for humans, it's natural for us to learn through play and experience. Using creativity to unlock cooperation and understanding will set the foundation for enhanced communication and more productive collaboration within your team.
IT'S DIFFERENT
Want to do things differently? Then you need to try something different.
Our workshops gently force your team to think differently about themselves and each other. We will foster excitement in your team and participants will leave leave feeling optimistic about the future and ready to put in place specific actions.
Mission
To be bold, innovative, and energetic as we use creativity-based learning to lead teams to their fullest potential and foster environments that encourage diversity, equity, inclusion, and anti-racism.
Vision
We will change the landscape of team training by offering engaging, experiential, and informative workshops. We evolve team communication and inspire participants no matter where they are in the world.

How did we get here? Our Story:
At Starfish Synergies we walk the talk.
We focus on resilience and adaptability because we were born out making the best out of the worst situation.

My name is Theresa Bailey, I am the founder of Starfish Synergies Inc.

Starting over two decades ago I was completing some graduate work with young women in a homeless shelter. I was trying to understand at that time what helps some people thrive more than others?
I quickly learned that there were differences in how individuals responded to stress whether in a shelter or in a mansion.
Resilience was a key factor.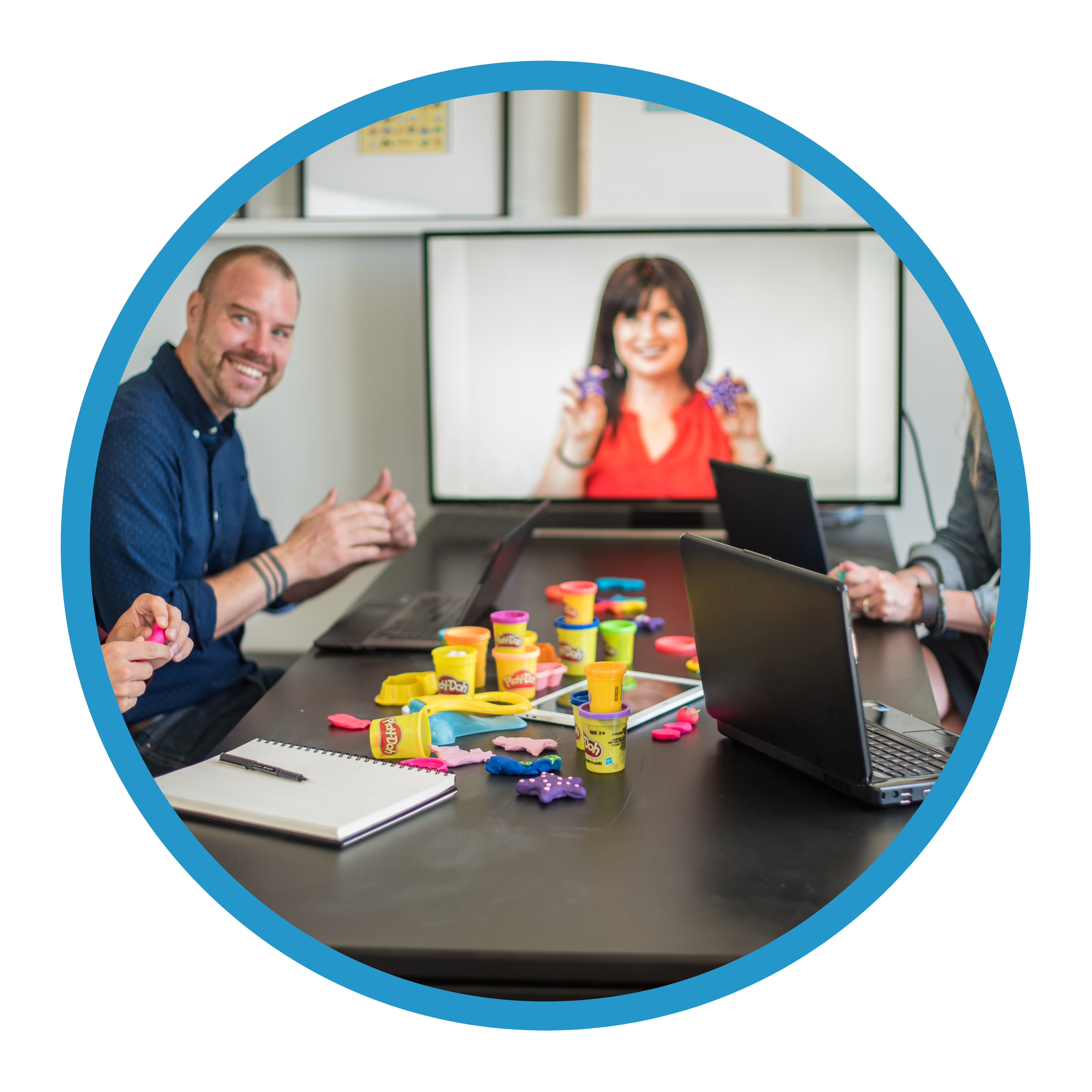 Over the years no matter where my interests took me I wanted to know: What helps people, teams, and communities thrive? What are the key ingredients?
In March 2020 I got to put my theories to the test.
When the pandemic hit, I was on my own with three children, a mortgage, and as an independent consultant, no guaranteed paycheck. Over three days in March I watched my work (and income) disappear.
It was time to implement what I knew. I got creative, and I bet on myself
To survive through the pandemic, I started to package everything I knew about teams, adaptability, and confidence and risk-taking and developing research-based and relevant corporate training.
Success in life often involves being prepared when the timing is right, and I was already honing my craft using Play-Based methods when opportunity knocked.
I was asked to work with Hasbro to develop training for one of their teams.
From that fateful place, using everything I had learned and practiced over 20 years, and with the iconic Play-Doh Brand, PLAY-DOH POWER SOLUTIONS was born.
Now, our team has packaged research based theory into the most interactive, engaging, thought providing team-building opportunities there are.
They are impactful, and they are fun!
Now Starfish Synergies Inc. is the exclusive provider of PLAY-DOH POWER SOLUTIONS corporate training
Starfish because you can lop a starfish in half and it will keep growing. Resilience at its core
Synergies because together we are greater than the sum of individual parts — just like your team.
Starfish Synergies is now at the forefront of innovative, creative team training and consulting in North America.
We arose from the ashes to be something unique, impactful, and entertaining. We strive to bring positivity, and the adaptability and resourcefulness that led to our own success, to teams across the continent to help all teams evolve.
Learn more about our Corporate Training, or Self-Guided Learning.
We're happy to answer any questions you may have!
Starfish represents resilience, adaptability, and resourcefulness.
Cutting off a starfish appendage doesn't slow a starfish down. It grows back a new limb and the detached appendage can grow into a new starfish. Starfish are remarkably resilient creatures. Each team has the potential to be remarkable, too.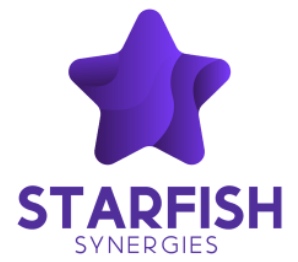 What clients are saying...
I genuinely had so much fun having Theresa facilitate a Team Cohesion Play-Doh Power Solution workshop for our team. It was important for our staff to reconnect and open up with one another, and through using the power of play, it gave us the opportunity to communicate in a creative way. Theresa created a safe space for us to share and acknowledge our inner child by bringing our imagination to life through music and crafting with Play-Doh. It was truly a one-of-a-kind experience, and I received positive feedback from everyone about how much they enjoyed it.
Anishnaabe Kwewag Gamig
This was a really incredible way to express some of the things we talk about… I thought this was completely innovative and a totally different way to express ourselves. Theresa inspires, her workshops are always fun, informative and transformative. There is something about creating… that allows you to be more vulnerable and honest. I feel like this created that. It was a unique experience. I highly recommend this training to all teams. It allows for a better understanding of your co-workers, increasing awareness, and personal reflection on how you can impact your team and your role in it. It allowed everyone to be a little bit raw and vulnerable but not in an intimidating environment. As far as a workshop goes and a team building workshop goes this is probably one of the best I've done and obviously the best virtually.
Carmen Veres
Exit Excel Realty
"Loved the group work - great opportunity to have healthy discussions with coworkers on subject matters that do not pertain to Transportation. Thank you so much Theresa for sharing your knowledge on the subject and sharing great tools and resources!"

"I really enjoyed learning new concepts and how they are/can be applied to the workplace and life generally. I was interested in hearing about how my coworkers perceived some of these topics, so enjoyed the group discussions as well."
Course Participants
Transport Canada
We appreciate how you synthesized evidence-based information about fear, stress, and resilience and packaged them in ways that helped us better understand what we, our families and co-workers are experiencing. You created an environment even through a Zoom call, that was warm and welcoming and brought forth engaged conversation. We now have a better understanding of how we can use our past experiences to build our own resilience. We left the conversation feeling optimistic about the opportunity we have to stay true to our values while creating our new future. Exit Realty truly is a family disguised as a brokerage and the session with you assisted all Agents and Brokers the opportunity to share and come together in a way that focused on our business, ourselves, our community. We look forward to working together again!
Wendy Embleton
Exit Realty By Design
Getting creative using Play-Doh Power Solutions allowed our team to think differently and communicate more richly about topics important to our work. Thinking with Play-Doh compound helped team members articulate abstract ideas, achieve insights and communicate complex concepts to other team members. Theresa has a great facilitation style that created a space for open communication, open minds and learning from each other. It was a lot of fun, and we emerged with a deeper understanding of, and ability to embrace, our team values, and embed them in the work that we do."
Emma McGarry Ware
Manager Innovation & Research, Regional Municipality of Durham
I would like to thank Theresa for working with our team. We were impressed with how the Starfish Synergies Play-Doh Power Solutions program allows people to open up on their own terms in a fun and creative way and not feel pressured. Our team has used the skills learned in the session and the changes were noticed in the first week.
Scott Walker
Route Supervisor.
Environmental 360 Solutions.